Villanueva deployed three times to Afghanistan
The NFL's Pittsburgh Steelers' head coach Mike Tomlin announced that the team would stay in the locker room during the U.S. national anthem to avoid the controversy Sunday after many teams and players launched protests during the anthem.
The protests were started by Colin Kaepernick to protest what he believes to be problems in America such as police brutality and black inequality.
The protests took on a renewed vigor on Sunday due to Donald Trump calling on players to stand and show respect to the anthem and flag otherwise he said that if any player kneeled that the owners should "fire that son of a b*t3h."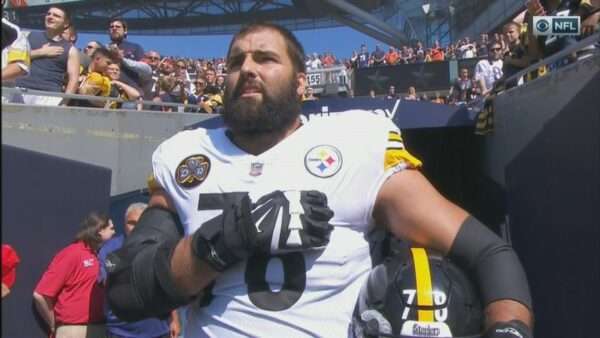 Tomlin said that his team is not going to play politics and they are "not participating in the anthem today not to be disrespectful towards the anthem, to remove ourselves from the circumstance. People shouldn't have to choose."
Alejandro Villanueva, a Pittsburgh Steeler and U.S. Army Ranger veteran who deployed three times to Afghanistan, left the locker room to go to the field to show his respect for the anthem, the flag and those who have served, are serving and who have died defending the American way of life.
Here is the video capturing the moment.
Also Read: NFL's Ravens & Jaguars kneel for U.S. anthem, stand for 'God Save the Queen' in London; Steelers to 'not participate in anthem' to avoid controversy
He received loud cheers when he stood and the rest of the team received boos when they eventually came to the field.
Villanueva stood alone at the entrance of the tunnel to the locker room, raising his hand over his heart and showing respect.
In 2016 Villanueva commented on Kaepernick's protests saying, "I don't know if the most effective way is to sit down during the national anthem with a country that's providing you freedom, providing you $16 million a year … when there are black minorities that are dying in Iraq and Afghanistan for less than $20,000 a year."
He continued, "I will be the first one to hold hands with Colin Kaepernick and do something about the way minorities are being treated in the United States, the injustice that is happening with police brutality, the justice system, inequalities in pay," Villanueva said. "You can't do it by looking away from the people that are trying to protect our freedom and our country."
Villanueva graduated college from West Point, the United States Military Academy and played football while at West Point. He was commissioned as an officer and attended Infantry, Airborne and Ranger schools. He deployed with the 10th Mountain Division for 12 months to Afghanistan in support of Operation Enduring Freedom – Afghanistan as a rifle platoon leader. He was awarded a Bronze Star Medal with "V" for valor for rescuing wounded soldiers while under enemy fire.
Villanueva volunteered for the 75th Ranger Regiment's Ranger Orientation Program in 2013.[5] He was assigned to the 1st Ranger Battalion. His roles within the Battalion have included plans officer, platoon leader, and company executive officer.[5]
He has deployed two more times to Afghanistan for a total of eight months between both deployments.
Villaneuva's commendations include the Bronze Star Medal for Valor, the Ranger Tab, the Parachutist Badge, the Bronze Star Medal for overseas service, National Defense Service Medal, Afghanistan Campaign Medal with Campaign Star, Global War on Terrorism Service Ribbon, Army Service Ribbon, Overseas Service Ribbon, NATO Medal, Combat Infantryman's Badge and Expert Infantryman's Badge.